SC-SC 9/125 SM Simplex PVC Fiber Optic Patch Cord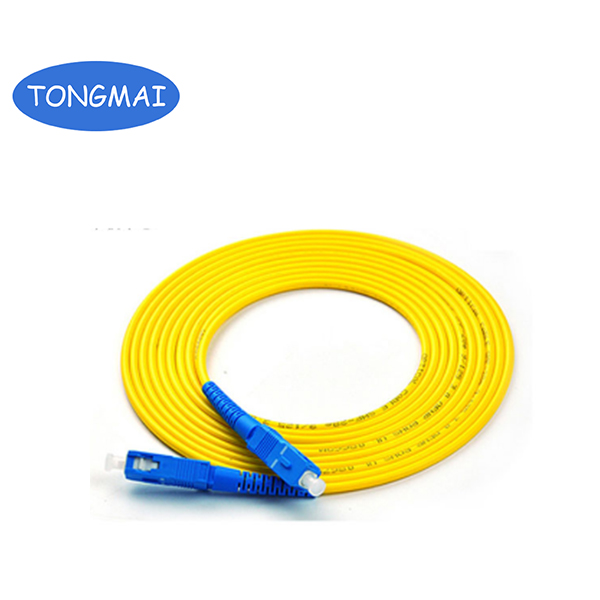 Fiber Optic Patch cords are ultra reliable components featuring low insertion loss and return loss. They come with your choice of simplex or duplex cable configuration .Extensive range of fiber patch cables are terminated with state-of-the-art connectors and available in any combination of ST, SC, LC and MTRJ with PC, UPC or APC polish types to meet your standard or custom configurations.
Key Features:
1) Low Insertion loss
2) Low PDL
3) Compact Design
4) Good channel-to-channel uniformity
5) Wide Operating Wavelength: 1260-1650nm
6) Wide Operating Temperature: -40°C - 85°C
7) High Reliability and Stability
Application :
1) FTTX Systems
2) PON Networks
3) CATV Links
4) Optical Signal Distribution
5) Local Areal Networks (LAN)
6) Fiber Communication Systems
Ordering Options:
1) Connector type: FC, SC, LC, ST
2) Ferrule End-face: PC, UPC, APC
3) Core Type: Single-mode (SM: 9/125um), Multimode (MM: 50/125um or 62.5/125um)
4) Cable Quantity: Simplex, Duplex
5) Cable Diameter: φ3.0mm,φ2.0mm, φ0.9mm
6) Cable Length: 1, 2, 3 meter or customized
7)Cable Type: PVC, LSZH.
Specification:
Model

SM

SM
MM

Polish
UPC
APC
PC
Insertion loss

Typical≤0.2dB

Maximum ≤0.3dB

Typical≤0.2dB

Maximum≤0.3dB

≤0.25dB

Return Loss
≥50dB

≥60dB

≥35dB

Interchangeability
≤0.2dB





Repeatability

≤0.1dB





Durability
≤0.2dB(1000 times mating)





Tensile Strengh
>10kg





Temperature
≤0.2dB(-40+85 sustain 100 hours)





Humidity
≤0.2dB(+25+65 93 R.H.100 hours)