Cable type:GYTA53/GYTS53
Structure diagram: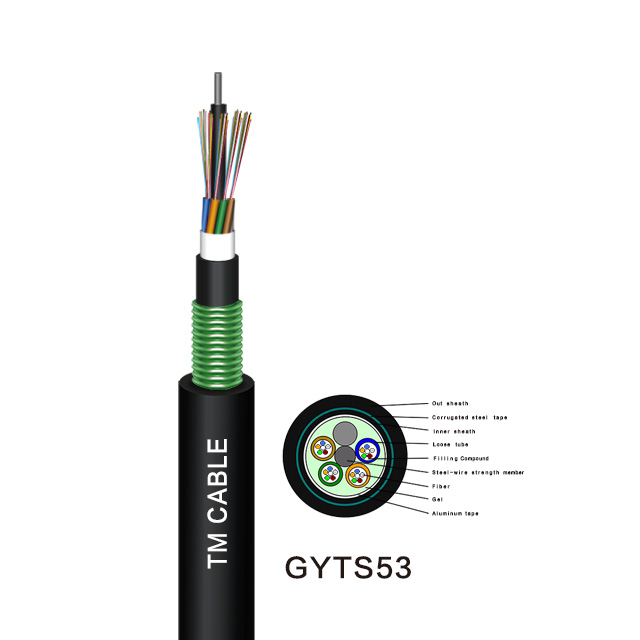 Optical Fiber Type:Optional single mode, multimode or single mode multimode combination.
Description:Metal strength member, optical fiber loose tube structure,SZ stranded, cable core filled with water blocking ointment, double-side plastic coated aluminum tape bonded PE sheath.
Laying Method:Piping installation or non self-supporting Aerial.
Application: Suitable for long distance communication and Inter office communication.。
Temperature Range:-40℃ ~ +60℃
Characteristics:
1. Reasonable design and precise control of the fiber length in the loose tube, so that the cable has excellent mechanical properties and environmental performance.
2. The outer part of the reinforcement and the core of the cable are filled with water-blocking grease to ensure the moisture-proof and water-blocking effect of the cable.
3. The cable is excellent in flexibility and bending resistance.
4. The longitudinal cable core of the aluminum belt makes the cable moisture-proof effect more excellent.
Technical Parameters:
Fiber Count

Cable Diameter

Cable Weight

(kg/km)

Bending Radius

(mm)

Tensile Strength

(N)




Crush Resistance

(N/100mm)

Static




Dynamic

Short Term

Long Term

Short Term




Long Term




32-36

9.1

84

10D

20D

1500

600

1000

300

37-60

9.4

85

10D

20D

62-72

10.1

105

10D

20D

74-96

11.4

121

10D

20D

98-108

12.0

132

10D

20D

110-120

12.6

143

10D

20D

122-132

13.4

158

10D

20D

134-144

14.2

175

10D

20D