Loose Tube Stranded Cable With Non-metal Central Strength Member And Steel Tape
Cable type:GYFTS
Structure diagram: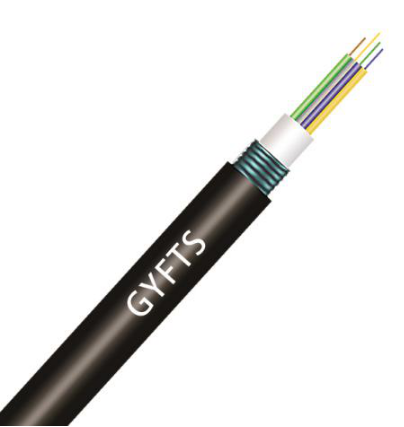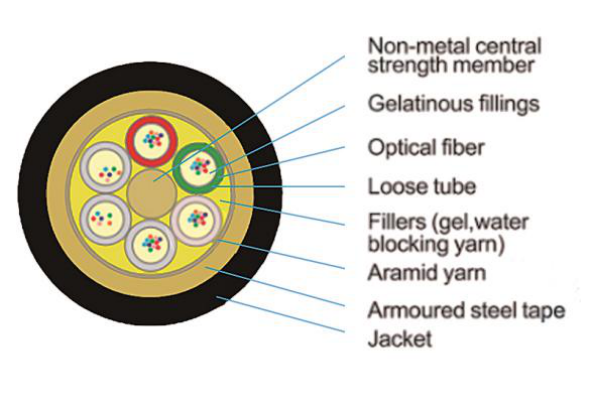 Optical Fiber Type:Optional single mode, multimode or single mode multimode combination.
Description:Non-metal strength member, fiber loose-layer stranded, fully filled, steel-polyethylene bonded sheathed cable.
Laying Method:Aerial.
Application:Suitable for long distance communication and Inter office communication.
Temperature Range:-40℃ ~ +70℃
Characteristics:
1. Accurate fiber excess length ensure goods mechanical and temperature performance.
2. The central strength member is made of high Young's modulus glass fiber reinforced plastic rod(FRP).
3. The non-metal central strength member avoids breakdown between central strength member and steel tape caused by lightning induction.
4. The loose tubes are filled with special filling compound for crucial protection of the optical fibers.
5. Complete water blocking construction ensures good water blocking and moisture-proof performance.
6. Strictly control of production process and raw materials.
7. The longitudinal binding steel tape functions as protection as well as reinforcing the crush resistance and the mechanical performance.
8. The jacket possesses good ultra violet radiation resistant property.
Technical Parameters:
Fiber Count

Cable Diameter

(mm)

Cable Weight

(kg/km)

2-144

12.6-18.0

130-300