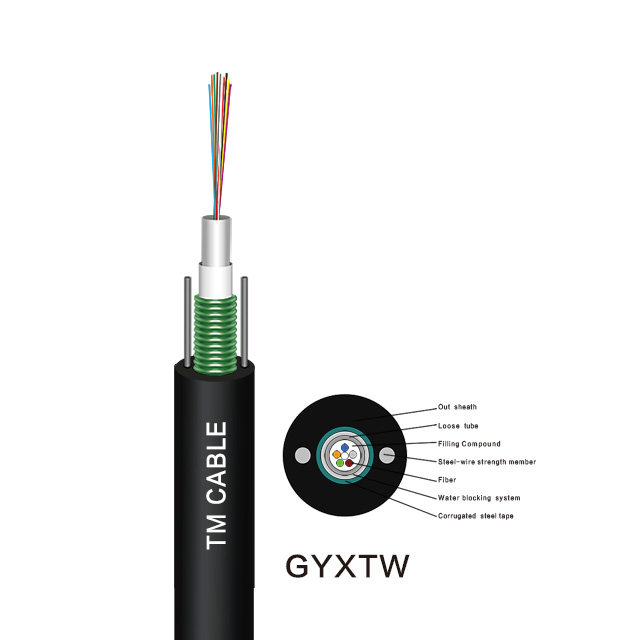 Cable Model: GYXTW
The fibers are positioned in a loose tube made of a high modulus plastic. The tubes are filled with a water-resistant filling compound. The tube is wrapped with a layer of corrugated steel tape. Between the corrugated steel tape and the loose tube water-blocking material is applied to keep the cable compact and watertight. Two parallel steel wires are placed at the two sides of the steel tape. The cable is completed with a polyethylene (PE) sheath.
Applications:
Long distance and local area network(LAN) communication.
Aerial & conduit/duct application.
Features:
Uni-tube gel-filled construction for superior fiber protection.
Double wire as strain member provides excellent strain performance.
Good mechanical and temperature resistant performance.
Crush resistance and flexibility.
Light weight and small diameter, easy to installation and operation.
Cable Parametres:
Number of fiber

1~12core

Loose tube

Material

PBT

Diameter

2.0(outer/inner)

Tube-filling

Tube filling compound

Steel wire

Size

0.7-1.0mm

Number

2

Outer sheath

Material

PE,HDPE,LDPE

Diameter

1.8±0.2mm
Fiber Count
2/4/6/8
10/12
Outer Diameter(mm)
8.3
9.0
Nominal weight(kg/km)
66
82
Max.tensile strength(N)
Short-term
1500
Long-term
1200
Min bending radius
Dynamic
20D
Static
10D