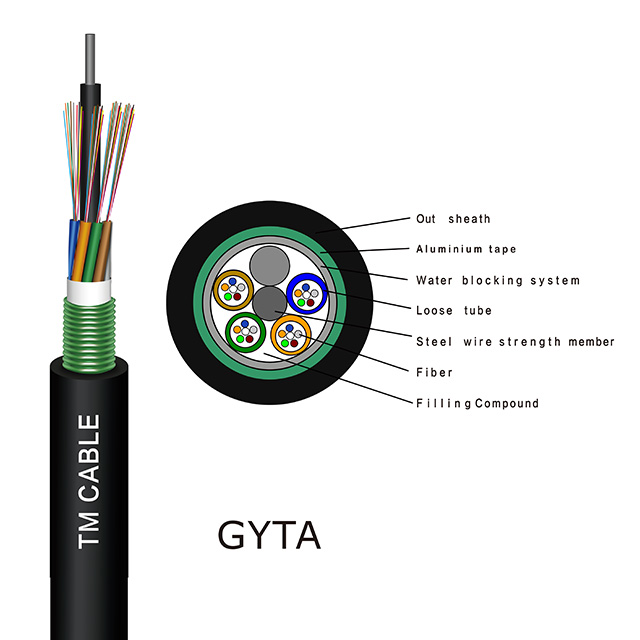 Cable Model: GYTA
The fibers, single mode or multi mode , are positioned in a loose tube made of a high modulus plastic. The tubes are filled with a water-resistant filling compound. A Aluminum tape, sometimes sheathed with polyethylene (PE) for cable with high fiber count, locates in the center of core as a metallic strength member. Tubes (and fillers) are stranded around the strength member into a compact and circular cable core. The Aluminum tape is longitudinally applied over the cable core, which is filled with the filling compound to protect it from water ingress. The cable is completed with a PE sheath.
Applications:
Long distance and local area network (LAN) communication.
Aerial & conduit / duct application.
Temperature Range: -40℃~+70℃
Features:
Good performance under mechanical stress.
Loose tube gel-filled construction for superior fiber protection.
Longitudinal corrugated steel tape is laminated at both side and bonded to PE outer jacket, it ensures not only radial moisture-proof but also reinforces the crush resistance of fiber optical cable.
UV and waterproof design.
Cable Parametres:
Fiber Count

2~144core

Moisture Barrier

Water blocking system

Central strength member

Material

Steel wire/FRP/FRP with PE cover

size

1.5mm~2.0mm

Loose tube

material

PBT

diameter

2.2(outer/inner)

Tube-filling

Tube filling compound

Armoring

Material

Aluminum tape

Outer sheath

material

PE,HDPE

diameter

1.70±0.2mm